SEATTLE — It's one of the oldest tricks in an inter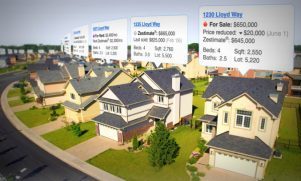 net company's playbook. Concoct a tool that gives the public new statistics on something — the quality of a restaurant or a toaster, say. Then watch visitors flock to the data and worry about accuracy later.
Few such tools have been as controversial as ones that show people the market value of homes, using software algorithms to do the estimates. Homes are typically people's most valuable asset, so emotions run hot when these estimates are seen as too high or too low.
The best-known of these tools — the Zestimate, from the online real estate website Zillow — began on the internet 11 years ago and has since amassed a huge audience of homeowners, shoppers and nosy neighbors. Sellers say unfair Zestimates can kill offers on their homes. About 171 million people visit Zillow each month, according to the company.
The good news is that the overall accuracy of these home estimates appears to have improved significantly over time. But they continue to have meaningful error rates compared with actual home sale prices. That means that they shouldn't be used as more than a conversation point between homeowners, shoppers and their real estate agents when they're coming up with listing prices and offers for homes.
Still, Zillow has an idea to make them better. On Wednesday, it announced the Zillow Prize, a $1 million award to the individual or team that can most improve the Zestimate algorithm. The contest was inspired partly by a similar competition at Netflix, which awarded $1 million in 2009 to a group of programmers and statisticians who best improved the company's movie recommendation technology.
Zestimates currently use a variety of data, including a home's square footage, location, tax assessments and comparable recent sales of homes in the area. Banks and insurance companies have used software to value real estate for years through what are called automated valuation models. Zillow was simply the first to get mainstream awareness for its estimates by making them available to the public online.
At first, the Zestimates were pretty dubious. When Zillow started out in 2006 with 43 million homes listed, it calculated the median error rate across the site at about 14 percent, said Stan Humphries, the chief economist of Zillow. That means half were within 14 percent of final sale prices for homes, while those for the other half of homes were off by more than 14 percent — a big discrepancy for the real estate business.
Through refinement of its algorithms and better data about homes, Zillow, now with 110 million homes accessible on the site, has a median error rate of around 5 percent, Mr. Humphries said.
Even that still adds up. In a place like San Francisco, with a median home price of $1.1 million, being off on a home estimate by more than 5 percent means missing the final price by more than $55,000.
While Zestimates can be amusing for some curious homeowners, they are infuriating for others. Barbara Andersen bought a home in Glenview, Ill., in 2009 with a view of a golf course, paying about $630,000. She wants to sell the home for about that amount, but the Zestimate on it is now about $536,000, which she believes is too low and has deterred buyers.
Ms. Andersen, a real estate lawyer, filed a lawsuit against Zillow this year, accusing the company of conducting stealth home appraisals without a state license. In recent days, she has represented several plaintiffs in a similar lawsuit filed in Cook County Circuit Court.
"If it's not reliable, you shouldn't put it out there," she said in a phone interview, referring to Zestimates.
Zillow said that the lawsuits are without merit and that Illinois law doesn't count computer-generated estimating tools as appraisals.
Most real estate agents grumble about online home estimates, too. Redfin, an internet real estate firm in Seattle, introduced its own home value estimator less than two years ago, commissioning an independent study that showed its figures were more accurate than Zillow's (Zillow disputes its conclusions).
Unlike Zillow, Redfin is a real estate brokerage, employing agents to buy and sell homes for clients, which means that its chief executive, Glenn Kelman, regularly hears from Redfin agents who either love its estimating tool or despise it. The latter would rather have a conversation about home values without the Redfin estimator having colored clients' expectations.
"I've almost never talked to our field organization without having to address the estimate," Mr. Kelman said. "It's a very personal and emotional thing."
There's little chance that home value estimation tools will ever eliminate their error rates entirely.
Susan Athey, an economist who is a professor at Stanford University, said she's impressed with Zillow's 5 percent median error rate for something as variable as homes. She said information like Zestimates are valuable for making a market like real estate function more smoothly.
"If individuals do not understand the market value of their property, they may pass over offers, making both buyers and sellers worse off," Ms. Athey said.
Even as they improve, it makes more sense to look at internet home estimates the way we look at Yelp reviews of a restaurant — helpful, but hardly the final word.
By: Nick Wingfield, New York Times
Originally Published May 24, 2017